The FBC Youth Ministry is designed to encourage young people (whether they have accepted Christ or not) to learn more about Christianity. We are committed to build young disciples for Christ by developing and implementing a comprehensive approach to youth ministry while serving as spiritual leaders and role models. We are here to encourage, call forth and celebrate their many gifts as disciples, and to advocate for their personal and spiritual needs. We provide opportunities for spiritual and social engagement and maturity through prayer, worship, education, special programming, fellowship opportunities, and mission outreach.
Our primary task is to:
love youth where they are
encourage youth in developing their relationship to God
provide them with opportunities for nurture and growth
challenge them to respond to God's call to serve in their communities and world
Youth Spaghetti Dinner 2016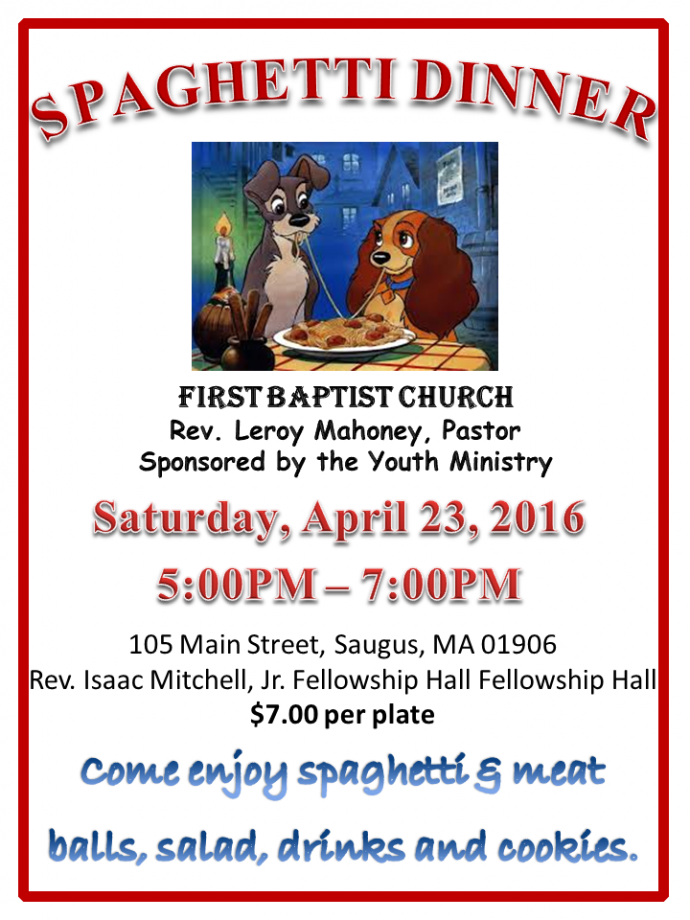 The Young Adult and Youth Ministry sponsored a car wash to help raise money for upcoming events including Youth Movie Night, Youth Explosion 2015 and Youth Fellowship.
The great thing about this car wash was that as FBC members brought their cars to be washed, they ended up helping out and it turned into a Church car wash. Everyone pitched in which is how the Lord intended.
The Youth Ministry held their first Youth Explosion, "Doing it for the VINE!!! (John 15:1, 5)," on Saturday, July 18, 2015 with Sis. Alyssia Johnson as the Worship Leader.

Min. Melvin Murphy, brought a Word from God using 1 Samuel 17:45-46 as his text. His sermon was entitled "Defeating Your Giants." "We want to empower out youth to do great things and let them know they have a voice."

A wonderful time in the Lord was had by all.

Please take a look at the videos and photographs below:
Min. Robyn Mars-Stroud

, Youth Ministry President
Email:
robyn.stroud@yahoo.com
Phone:
781-526-4241
Address:
105 Main Street
Saugus, MA 01906