92nd Church Anniversary Booklet
We are eternally grateful to our many members who haved served the Lord through the First Baptist Church (FBC) over the years. Their dedication and labor serve as a testimony of their love of Jesus Christ, our Lord and Savior. Through them we find inspiration for our lives today and models of Christian discipleship for tomorrow.
Please join us as we celebrate 92 years in service to the Lord! Our theme is Building on Our Legacy: Rooted in the Past, Growing Towards Our Future and supporting scripture is Psalm 100:5 (NIV) "For the Lord is good and his love endures forever; his faithfulness continues through all generations."
Our Anniversary Musical will be held on Friday, November 4, 2016 and our Anniversary Service will be held on Sunday, November 6, 2016 featuring Rev. Dr. Arthur L. Hilson, Pastor of New Hope Baptist Church in Portsmouth, NH.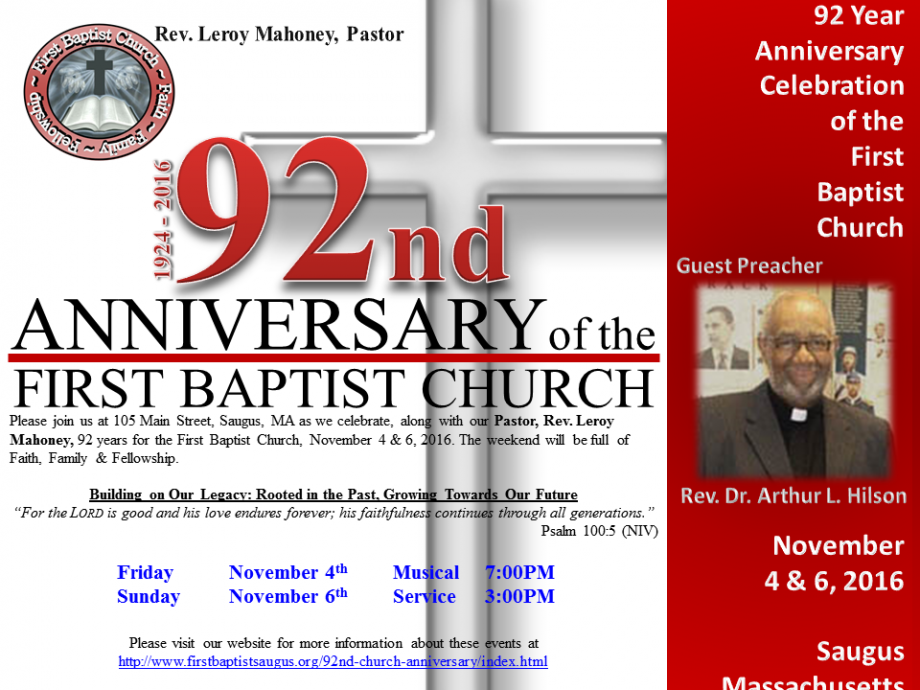 Anniversary Committee members
Deacon Maria Barron, Decoration/Hospitality.Welcoming Committee
Sis. Deborah Bell, Ad/Publicity Committee
Bro. Edward Campbell, Media Committee
Deacon Ernest Dudley IV, Music Committee – Friday evening
Sis. Gwen Lipscomb, Treasurer
Min. Melvin Murphy, Music Committee – Sunday afternoon
Sis. Annette Peterson, Hospitality Committee
Min. Letitia Stroud, Printing Committee
Min. Robyn Monique Mars, Chairperson/ Ad Committee
Deaconess Lolithea Thompson
Trustee Mary Ward, History Committee